So, my English exam was yesterday, and I'm so glad it's done! I feel like a prisoner just released from the guilt of procrastination. I've spent the past two weeks feeling guilty for every minute I spent
not
studying (except of course for when I was caring for the baby). I was thinking of taking a summer course too, but I'm not going to...not with KD needing to study for his CMA exam every spare moment between now and June 17. So, I finally finished two projects! I'm very happy with them. This is what I accomplished by procrastinating on my school work. You know those ugly 1970's bi-fold closet doors? Our house is full of them (some are sliding, some are folding). We dislike them all, but we hated the one on the front hall closet...it was always getting in the way. So we took it off a few months ago, and it's been languishing in our cluttered basement waiting for the annual dumpster that our condo board brings every spring. I've also been wanting to go buy some wood for some projects, but it's difficult to do so when pushing a stroller! So I pulled out a saw. Here's what happened to about 1/4 of our ugly door:
and:
(ignore my bad handwriting.) For those wanting to make a chalkboard, be warned that the paint takes
forever
to dry! The frame is from a thrift store. I have another just like it, but I don't know what I want to put in it yet. I thought of painting it black like all the other creative internet people do, but I really like the distressed gold. And since I was released from studying, I also went shopping for some things I needed that I had been putting off until after the exam. I didn't find many of the things on my list, but here's something I did find:
Walmart has a few different sizes and styles of these apothecary jars. This one was about $7. It will probably end up in the bathroom. In other news, my mom took JK and me out for coffee this morning and told me something I have been longing to hear for about 2 years. I get to have my grandma's china cabinet! I already have her china, and I've been trying to find out whether I could have the cabinet, but I could never get a straight answer (I didn't feel comfortable asking my grandpa about it since I'm not in the inheriting generation yet, and I heard his new wife was using the cabinet). It's currently about an hour away in storage at my uncle's house. So as soon as I can figure out how to get it into the city, I will have somewhere proper to put this: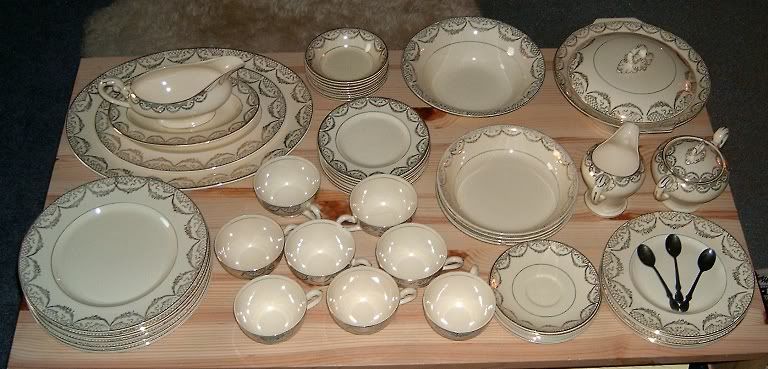 Isn't it beautiful? I haven't used it much because it can't go in the dishwasher and since it's not in a closed cabinet, I'd have to wash everything by hand
twice
.