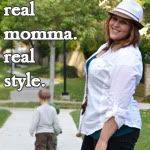 I've been saving up! Here are the highlights of my wardrobe choices over the past two or three weeks:
Shirt: Joe Fresh (gift from my sister)
Belt: Ardene's
Boots: Shoe Warehouse
Tights: Roots from Winners
Skirt: Designed by me, made by my mom. It's made of 8 equal pointed gores that flare at the bottom, and it's lined.
Necklace: Made by me
Cami: Smart Set, I think. Maybe Suzy Shier
Rose Earrings: Vintage from Kevin's grandma
Shirt: Thrift Store. I think it used to be a dress. The bottom hem is raw, and I zigzag stitched around it to keep it from fraying. The buttons keep falling off so I need to do something about that.
Cardigan: Zellers
Brown shirt: Urban Connection
Socks: Costco
This outfit was kind of inspired by one of
Lindsey's outfits
. I like the concept, but I think I needed a different shirt to replace the brown one. And I'm not wearing shoes because this is Canada, yo! We take our shoes off at the door! Meaning, I was too lazy to go put my boots back on for the picture.
Cardigan, Skirt, and Leggings: H&M
T-shirt: Old Navy. I'm glad I only paid $3 for it because it's getting holes already!
Boots: Shoe Connection
Earrings and Necklace: Gift from a friend. I wore them when I was in her wedding. I like the bit of bling they give to my grey rainy-day-inspired outfit. We'd had the first rain of the spring the night before...even though it was still technically winter.
Happy second day of spring!
Remember that every comment on any post is counted as an entry in the Vintage-Inspired Giveaway! Of course, feel free to comment even if you don't want to enter the giveaway! Make sure I have a way to contact you if you're the winner!