I woke up at 7:10 this morning, when both kids came into my room. Immediately, I remembered that I have to bring snack to our moms' group this morning! So I fed the kids, then whipped up a double batch of
Blueberry Morning Muffins
and popped in them in the oven by 7:35. I love how the batter turns purple when you use thawed blueberries instead of fresh. They don't really stay purple when they're baked though, as seen in this
photo from way back in 2008
. Today's look a little different because I should have drained some of the liquid out of the blueberries.
This week, I've gotten a little bit of recognition from other bloggers! On Monday,
Sharon from Polish and Sugar
(a fellow Canadian!) honoured my little blog with the Kreativ Blogger award. Thanks so much, Sharon!
Today,
Angie from Knick of Time
featured my
coffee dyed paper tutorial
! I've done so few tutorials, so it's nice to know that people actually like them and I'm not just rambling on and confusing people. Thanks Angie!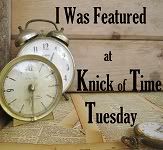 I'm still working on finishing up the details of the half-bath and my shiny-flowery-polka-dot project that I mentioned on
Facebook
yesterday. Post to come soon!